Episodes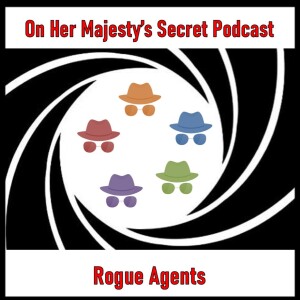 Monday Apr 18, 2022
Monday Apr 18, 2022
The Rogue Agents return! Starring Jarrod Alberich - Jason Alberich - Delvin Williams - Pat Sampson - & Alan J. Porter. 
This episode: 
Alan J. Porter officially joins the Rogue Agents team!
The lads welcome guest Agent I - Joseph Iliff! And we're gonna talk all about "Live and Let Die" - the Radio Drama from BBC Radio 4.
Wanna be part of the show? EMail us your questions or comments - feel free to email us an audio file - to: OHMSPOD@outlook.com
Or leave a voice mail: 707-532-5269
If you like our style AND you like comic books, check out the fellas on their other channel: The Longbox Crusade at www.LongboxCrusade.com
Be a part of the White Rocket Entertainment family by becoming a patron of the shows-we thank you by name on every episode: https://www.patreon.com/vanallenplexico
Brought to you by White Rocket Entertainment and by Audible.com.
Find links to everything we do at www.plexico.net